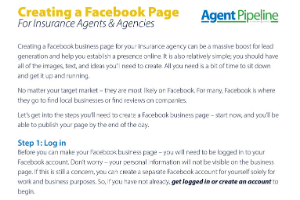 Guide to Making a Facebook Page Download
Creating a Facebook business page for your insurance agency can be a massive boost for lead generation and help you establish a presence online.  Agent Pipeline is here to guide you through making a facebook page.
Fill out the form to the right to gain access to the Guide to Making a Facebook Page Download!
How to Market to Medicare Eligibles on Facebook
As you might already know, Facebook is the most popular social network among seniors. They are the fastest-growing demographic on the social media platform, and 46% of adults 65 and older use it. This is why Facebook should be a key player in your Medicare marketing strategy as an insurance agent.
Your potential client pool is growing and changing – and they are using Facebook more than ever. Use these tips to make sure you're taking advantage of Facebook in the best way to market to the Medicare-eligible community.
Post the content they want.
People are online for various reasons: staying connected with family and friends, news, shopping, etc. They are always taking… Click here to continue reading.