Now that the Medicare AEP is over, it's time to look at your business goals and how you plan on marketing your insurance agency for 2021. This past Medicare Annual Election Period (AEP) was one for the history books, as insurance agents faced how to do business over-the-phone and selling Medicare Advantage plans telephonically during a pandemic. 
As the vaccine for COVID is making its way out into our world in phases, it's time to start thinking about business goals for your insurance agency and work on your 2021 insurance marketing plan. 
Getting Started on Your Insurance Agency's Marketing Plan 
Before jumping into tactics and the execution of the marketing plan, you must define the business goals for your insurance agency. A best practice is to look at the next 1 – 3 years to identify your goals.  
One important rule of goal development is to use the SMART goal format. SMART goals are great for keeping us accountable as they lay a foundation for: Specific, Measurable, Attainable, Realistic, and Time-Bound goals. 
Some examples of goals for your insurance agency set in the SMART goal format include: 
Increase Medicare Supplement production by 30% in the next 12 months. 
Double revenue through cross-selling Medicare Advantage & hospital indemnity plans in the next two years. 
A SWOT & Budget Analysis for Your Insurance Agency 
You want your insurance agency's marketing efforts to provide you a consistent flow of high-quality leads. You want your target audiences and current customers to be happy to hear from your insurance agency and not dread it!  
The way to achieve all of this (on a budget!) is to use a marketing approach that builds an ideal insurance agent marketing strategy and execution plan aligned with the business goals you set for your insurance agency. 
What is a SWOT? 
A SWOT identifies the current strengths, weaknesses, opportunities, and threats of your insurance agency's current marketing program. A SWOT for your insurance agency reviews your competitive position against insurance agents in your area, your target markets, target audiences, current messaging, and the maturity of your offerings.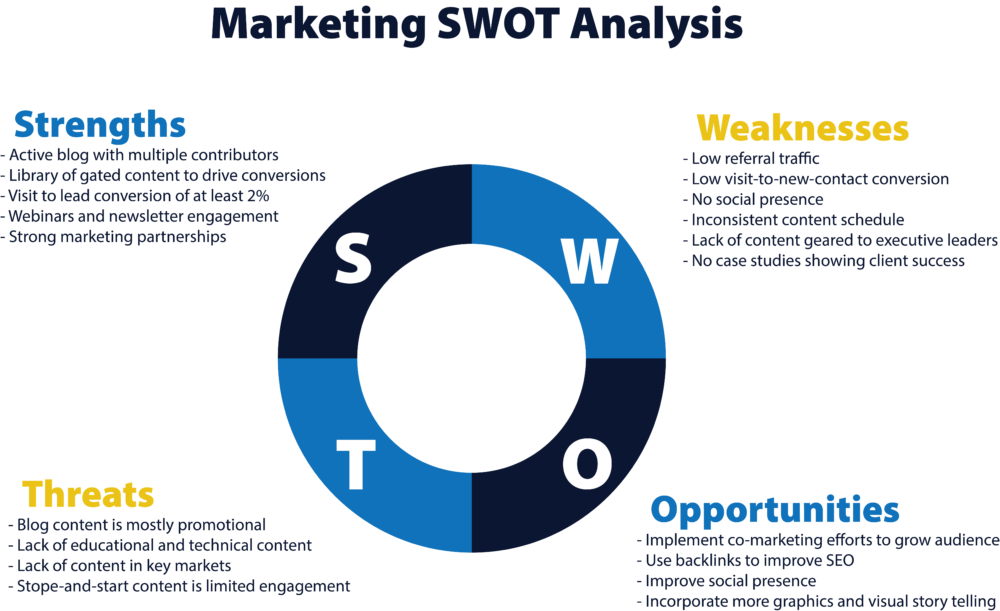 A good rule of thumb for spending on marketing is about 6 – 12% gross revenue with higher spending in the early phases as you establish a foundation for your insurance agency's marketing activities. 
Who is your insurance agency's target persona? 
You probably know the profile of your most valuable customer and the sales process your insurance agency uses to convert similar prospects! However, as your insurance agency grows in 2021, you won't know each prospect's unique situation, and one message won't work for all Medicare beneficiaries. You'll need to customize your insurance agency's marketing approach by creating a buyer persona. 
A buyer persona is a fictional representation of your ideal customers based on demographic data, online behavior, and your guesses regarding personal histories, motivations, concerns, and goals. 
For example, you may have Arnold, 79 a widower in a rural area:
Arnold is a retired schoolteacher living off his retirement with a few additional investment annuities, he purchased from his friend who started selling back in the 90s. Arnold is lonely, so he keeps his television on in the background and generally can't hear phone calls because of the noise. He reads and re-reads everything and generally has a hard time understanding insurance jargon. When he becomes frustrated with the change and does not understand the letters from the insurance company, he will throw his hands in the air and be unwilling to look at his summary of benefits or speak to an insurance agent at all. He is very resistant to change and doesn't understand why processes change year to year. He's very irritated when the communication lines are crossed with the insurance company and his providers – he does not understand why they are sending him bills when Medicare has already paid. 
Once you've brainstormed and created a few of your buyer personas based on your current book of business, you can begin segmenting and identifying prospects as a buyer in your persona. This is incredibly helpful when you're looking to craft marketing messages. 
Develop your Marketing Goals for Your Insurance Agency 
Armed with your business strategy, areas of opportunity, and defined persons – you are now ready to create marketing goals for your insurance agency! Goal setting is critical to align with your insurance agency's marketing efforts, narrowing your focus on the right Medicare beneficiary's and setting your overall marketing strategy! 
Continue to apply the SMART goal format. A good idea is to examine your business goals and determine which buyer persona would be a customer to help achieve those goals for your insurance agency. For example, one of the goals was to increase Medicare Supplement insurance plan production for your insurance agent. 
There are a few approaches you'll want to take:
Identify clients that will be turning 65, or aging into Medicare
Identify clients who may be on the books but could be at risk for a rate increase 
When you're able to break down the goals to see how many segments you'll need to work with – it makes it incredibly easy to now take steps to create campaigns specific for your insurance agency's marketing goal. 
Create Your Insurance Agency's Marketing Campaigns 
With limited time and a budget, a campaign approach gives you the big picture. From the bigger picture for your insurance agency, you can break down smaller activities you can take. Maybe you want to send an email to existing Medicare Supplement customers? Perhaps, you want to start posting on social media about how to sign up for Medicare to target your clients that are becoming newly eligible. 
Strategy is an evolution and something that a great deal of time to develop for your insurance agency. However, mapping out a clear, strategic direction for your insurance agency will help create a cohesive marketing plan that maps to your personas through campaigns and is bound and budget driven. 
If you're interested in learning more about how to prepare your marketing goals for the 2021 AEP, please contact your Regional Marketer for more information.