With COVID-19 impacting face-to-face exposure, it's time to examine tools to help insurance agents and agencies continue to conduct business. A vast majority of insurance carriers have done a great job of making the selling of their products much easier telephonically. One of the most important tools you'll need to ensure you're prepared for over-the-phone sales is technology!
You have many options when it comes to screen sharing technology. Screensharing software can be used for anything from webinar presentations, to live customer support interactions and over-the-phone sales. At its most basic, it's software that allows two or more users to share their screens with other people online. You can also opt-out of screen sharing and conduct a video chat session or audio-only.
If you're looking for a quick technology to use, we recommend checking out the following options:
Screenleap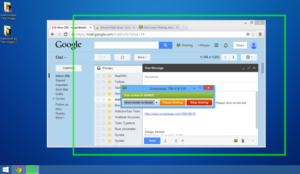 Screenleap is one of the most bare-bones screen sharing tools out there, but its lack of complexity makes it lightning fast to use. It's ideal when you need to present to a client without forcing them to download and install something heavy-duty.
You get a permanent URL that anyone with the link can use to join the session.
Since it's browser-based, it means participants can join regardless of their device or setup. Watching a screen share is just as smooth from a mobile browser as it is on a desktop. With this simplicity, comes trade-offs. Screenleap does not support video conferencing or annotation.
Screenleap Pricing: Free for 40 minutes of screen sharing per day; from $15 per month (billed annually) for up to eight hours of screen sharing per day.
Zoom
Zoom is considered one of the best video conferencing apps for handling meetings, demos, and webinars. Even over choppy network connections, Zoom manages to maintain a video connection by adjusting quality depending on bandwidth. This is especially useful for screen sharing, which is something Zoom makes easy, no matter the circumstances.
Zoom also provides a lightweight installer for practically every operating system, and mobile OS, so hosting a screen sharing session for a non-Zoom user isn't likely to cause compatibility issues or awkward waiting periods.
Zoom Pricing: Free with a 40-minute limit on group meetings; from $14.99 per user, per month for an unlimited time.
Skype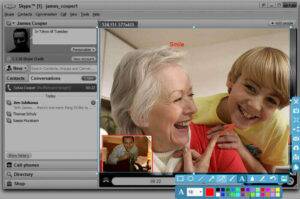 Skype is generally installed on computers as part of Office 365. It's audio and video calling features may have been the first contact you had with such space-age technology in 2003.
When it comes to screen sharing, Skype's features aren't as rich as other dedicated video conferencing tools. It has a shared whiteboard feature with a variety of annotation tools, but you can't use these tools on a live stream of a participant's screen, just on the whiteboard itself.
Keep in mind, screen sharing isn't allowed on any device outside of the Windows desktop. If you're only utilizing this tool for video or voice chat, it's a great tool.
Skype Pricing: Free; or part of your Office 365 subscription.
GoToMeeting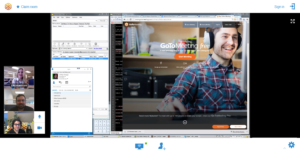 GoToMeeting does everything you'd expect one of the most well-developed conferencing tools to do: group calls with audio and video, scheduled meetings, presenter switching, screen sharing, collaborative annotation, and remote access.
We love GoToMeeting and believe it was built with mobile-first users in mind, offerings apps for Android and iOS that retain screen sharing features, and an iPad app that supports screen sharing, document sharing, and whiteboard collaboration.
GoToMeeting Pricing: From $14 per user, per month (billed annually) for up to 10 participants.
The great news is that many of these companies are offering a discount due to the current need for business continuity. For more information regarding additional tools, you may need to sell over the phone, contact us at 800-962-4693 now.