Agent Pipeline is pleased to provide you with an exclusive look at a news briefing regarding Medicare Advantage plans across the country. Roughly a third (more than 22 million) of all Medicare beneficiaries are enrolled in some type of Medicare Advantage plan.
According to the Centers for Medicare and Medicaid Services, Medicare Advantage enrollments jumped by 9.4% from the same time in 2019. In 2019, according to data from the Centers for Medicare and Medicaid Services, the Medicare Advantage plan enrollment growth rate was around 6.8%.
UnitedHealth Group increased membership by 10% to 6.3 million people, keeping a ranking as one of the largest Medicare Advantage companies.
Other well-known carriers with high enrollment numbers include Humana (4.4 million), CVS Health's Aetna (2.6 million), and Kaiser Permanente (1.7 million) remained at the top of the list for popular Medicare Advantage plans.
There were several new insurance carriers entering into the Medicare Advantage space this year with smaller footprints who made a considerable enrollment gain including Devoted Health which multiplied its membership by seven times and is now at 16,000 enrollees.
Clover Health had a 39% enrollment increase from last year and now serves 54,500 members, while Alignment Healthcare had a 36% spike in enrollments with 61,700 members.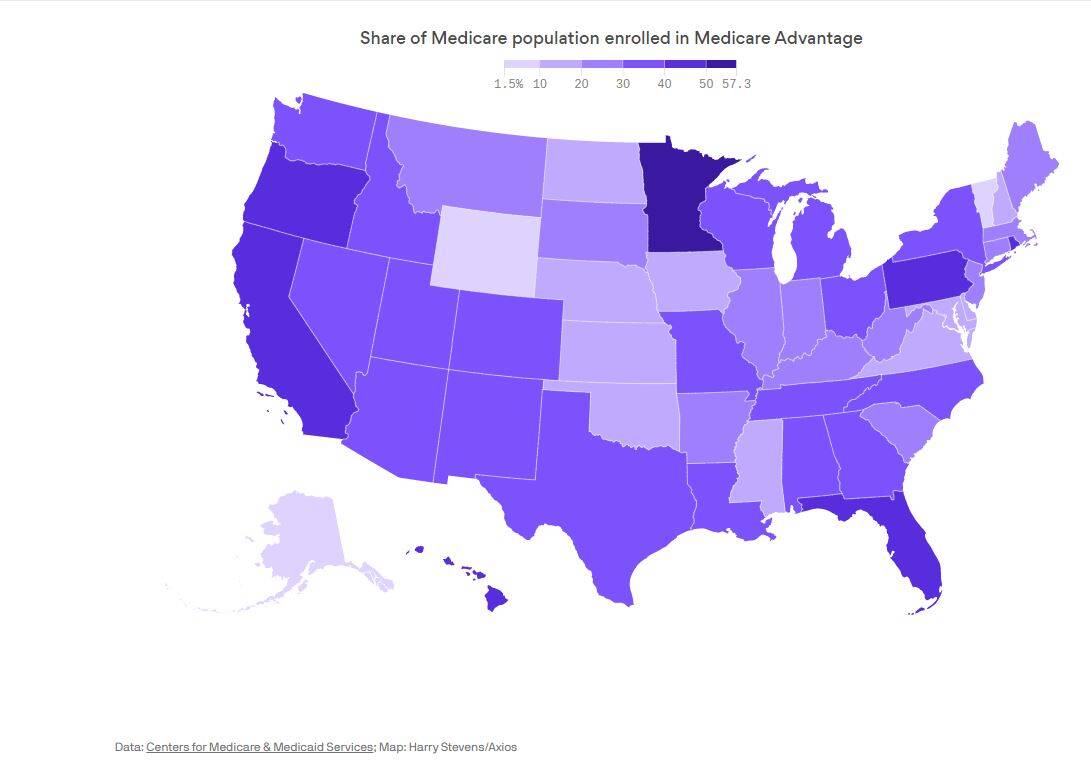 You can view the interactive map from Axios by clicking here.
According to data provided by Centers for Medicare & Medicaid Services, states in the Midwest, South, and West have the highest proportions of Medicare members enrolled in Medicare Advantage plans. Some states have more than 40% of their Medicare population in the taxpayer-subsidized private plans.
The states with the highest proportion of private Medicare plan enrollees (53%) is Minnesota, although many people are enrolled in "Medicare Cost" plans that function as a hybrid between Medicare Advantage and Original Medicare Part A & Part B.
Medicare Advantage is far less popular in states with sparse populations like Alaska, Vermont, and Wyoming.
States with high concentrations of Medicare Advantage enrollees also have dominant systems of providers (both hospitals and doctors) that sell Medicare Advantage plans.
Many members in Pennsylvania purchase plans from Highmark, Geisinger, and UPMC, while Kaiser Permanente has a strong grip of the market along the West Coast.
While health insurance companies will always aggressively pursue areas where there is a high population of age-ins and individuals over 65, like Florida and California, the distribution shows there are pockets of the Midwest and Northeast that could be future target areas.
For more information regarding Medicare Advantage plans and opportunities in your market, please contact Agent Pipeline experts at 800-962-4693 to learn more about options for your beneficiaries.
We take statistical data provided from the Centers for Medicare & Medicaid Services to conduct year-over-year analyses to identify trends and find product opportunities for our agents. Agent Pipeline is here to ensure our agents are equipped with the knowledge and tools needed to be a center of influence in their market. Backed by Agent Pipeline's in-depth guidance, insurance agents and agencies remain independent, empowered, and successful in every way! Let us help you transform the way you conduct business. Visit us online at www.agentpipeline.com, or email us at info@agentpipeline.com for more information.
Don't forget to sign up for the Agent Pipeline newsletter to gain insight on all things related to Medicare Advantage including but not limited to compliance, proposed rulings and regulations, and unique marketing strategies for your business.
Additional Resources:
CMS.gov Newsroom
Medicare Statistical Trends Reports